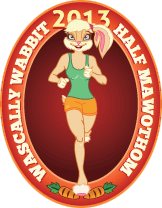 Wicked Fast Wascally Wunnuhs
Fresno, CA
The Wicked Fast Wascally Wunnahs is a running group dedicated to helping you achieve your fitness goals.

You will receive free hands on training from Road Runners Club of America certified coach Brad Castillo. You will receive a schedule that will help you reach your goals.

Weather that goal is to finish your first half marathon or improve your time we can help you achieve it. You will meet four times a week with the group and your coach for a diverse training that includes, hill training, speed work and trail running. We welcome all levels of fitness from the beginner runner to the advanced marathoner.

Additional Information: Please remember that unless prior arrangements have been made, we will always meet in the parking lot at Fort Washington and Friant. We park between Guadalajara Restaurant and Starbucks next to the only patch of grass in the parking lot. The training sessions are year round and we meet Mondays, Wednesdays and Fridays @ 5:00am, and Saturdays @ 6:00am. We will always try to finish about 6:15 am, except on Saturdays, which is when we run our longer runs.

Philosophy: Quantity and Quality

Description: Just like a sky-scraper has to be built on a good foundation, so does your training. This means that you have to put in some easy running miles on a regular basis. From this we can build up our ability to run farther and with more ease as we progress through the weeks before the race. The simple rules of training: We stress the body, rest, then stress the body again a little more, then rest again. Without proper rest, the body does not adapt to the stress and injury will occur and you will need to stop altogether. A runner should be able to run 2 to 3 times during the week, with the ability to do a longer run on the weekend as part of the training program.