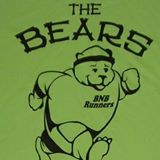 Bad News Bears Runners
Fresno, CA
How we started...
We are a small group of friends who began exercising together as a way to support and encourage each other to become more healthy. We had all worked out individually in various activities, but our friendship at work and through other groups soon became a platform to launch a crusade to get fit.

As our endurance grows, so does our competitiveness...
We challenge each other to participate in other races to stay motivated. Our team adopted the name 'Bad News Bears' because of our less than professional running image and attitudes. We didn't look like your typical athletes; we were a hodge-podge group with different levels of experience and different medical issues. Some members of our team have joint pain, Asthma, or Diabetes.